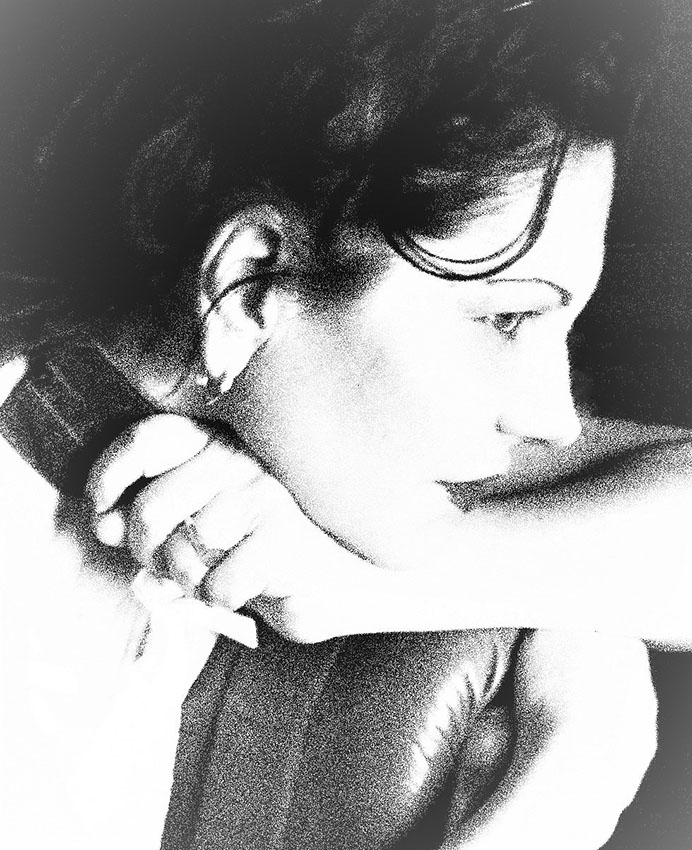 Iaia Filiberti
Born in Milan. Lives and works in Milan and Stresa.
Education
University of Law ( criminal law degree), Università Cattolica , Milan
PHD of international law, University of Bruxelles( ULB), Belgium
Fine Arts study in Bruxelles, Belgium
Books and App
2022 May – Creation of Pepita NFT on Opensea
2017 Seidimano (Electa Mondadori Editore)
2012 Pepitaup, app for iphone and ipod
2010 Framed, 100 round trip to Hollywood, Edizioni Charta, Milan
2004 Pepita, Salani editori, Milan
Main solo shows and solo video projections
2022
Youtube interview curated by Vera Agosti and Giorgio Lodetti
Arianna e Teseo, Libreria Bocca, Galleria Vittorio Emanuele II 12, 20121  Milano
2021
1° Prize, Take care Project, Fondazione 107, Turin ( curated by F. Piccari)
1° Prize, Take care Project, Gli Artivisti (curated by S. Mattina and L. Papa)
Arianna e Teseo, Mia Fair, Superstudiomaxi, il chiostroartecontemporanea, Milano
Arianna e Teseo, Il Chiostro Arte Contemporanea, Saronno
2019
Cappelline, Sala rossa, Palazzo dei Congressi, Stresa
Cappelline, Museo civico Castello di Masnago, Varese
Cappelline, Palazzo Parasi, Canobbio (VCO) text by M. Mojana and G. Ceriani
2018
Seidimano, WiP / Lakeside art gallery, Verbania – Intra
2017
Pepita Reloaded, Museo di Gignese (VB), a cura di M. Mojana
2016
Seidimano, Casa Filiberti, Galleria Giuseppe Pero ed Il Chiostro arte contemporanea, Gallarate
NIMBY (story), BAIETTINI 18 – Temporary Gallery Space , Verbania
2015
NIMBY, Il Chiostro Artecontemporanea, Saronno
2013
Ida e Volta, MuBE, Burle Marx, Sao Paulo
2012
Framed, Bernice Steinbaum Gallery, Miami
2010
Pepita Nap, Nap Atelier, Milan
Framed, 100 round trips to Hollywood, Fondazione Sandretto Re Rebaudengo, Turin
Framed, 100 round trips to Hollywood, Spazio Oberdan, Milan
2009
Framed, VM21 gallery, Rome (curated by P.Ugolini)
2008
Framed, Room arte contemporanea Milano
2007
Frequent flyer, Fondazione Adriano Olivetti , Rome ( curated by E. del Drago)
2006
Personaenigma, 1000eventi, Milan ( curated by E. del Drago)
Mood in food, Cà Albrizzi, Milan
2003
Pepita is on, 1000eventi, Milan ( text by Saul Eden – A.Madesani)
2002
Lady Machbeth's lunch, Dirarte contemporanea, Caserta (/text by A.Madesani)
2000
Diversi modi di aprire la bocca, StudioArte 3, Trieste (text by Gabi Scardi)
1999
Try your luck!, StudioArte 3/1000eventi, Artissima, Turin
Paradise lost, Studio Arte 3, Milan (/text by Silvio Wolf)
Main group shows ( selection starting from 2000)
2021
Art Feed on Art, Mocak, Krakow ( curated by A. Sachar and M. Sobczk)
Gli Artivisti, 1° prize, curated by Silvia Mattina and Filippo Papa, Roma
Take care project, Fondazione 107, (curated by F.Piccari), Torino
Save Humanity, curated by Vera Agosti, Milano
Holyandcontemporarymary, curated by Vera Agosti
Fondazione Ariel, curated by Francesca Namboni, Palazzo Cusani, Milano
2020
Cappelline, Spazio Big con Associazione AMALAGO, Pallanza
Silent game, Progetto online a cura di Valentina Rippa.
Artist diary project Galleria Valentina Bonomo, Roma
Bound up Together, On the 100th Anniversary of the 19th Amendment
Smack Mellon Exhibition, N.Y
2019
Luna, Il Chiostro arte contemporanea, Saronno
2018
Galleria Giuseppe Pero ( Milano)
2017
Dreams&Dramas, NGBK, Berlin, Germany (curated by Agnieszka Kilian)
Before nightfall, HollyShorts Film Festival, Los Angeles, USA
Before nightfall, NewFilmmakers, New York, USA
CINEMA & ARTI,  Cinema Anteo Palazzo del cinema, Milano (a cura di F. Alfano Miglietti, L. Lombardi, E. Longari)
2016
Bitter Sweet Symphony, Museo Campari, Milan (curated by M Mojana & F Confalonieri)
Medicine in art, MOCAK Museum of Contemporary Art in Krakow, Krakow
Luci e ombre, Tunnel Riva, Montecarlo
2015
Kaleidoscope, Il Chiostro Artecontemporanea, Saronno
Liaisons, video art installation, Milan (curated by Gilda Artese & Alessandro Trabucco)
Gender in Art, MOCAK Museum of Contemporary Art in Krakow, Krakow
2012
Passato Prossimo, Roncaglia XXXII Piacenza
I just want to be loved, Map Project, EX3 Florence ( curated by G.Scardi and R.Cats)
Scene da fotoromanzo. Ricordami per sempre, Villa Ghirlanda, Museo di fotografia contemporanea, Milan (curated by S.Turzio)
2011
I just want to be loved, Map Project, MAGA Gallarate ( curated by G.Scardi and R.Cats)
Vesti d'arte, Arsenale Gallery, Rome (curated by Valentina Bonomo)
Invisibilia – ri_TRATTI im_PERFETTI , GAMC Palazzo Forti, Verona
2010
Carta bianca, Allegra Ravizza art project, Milan
Moving Pictures Summit, Lods
VIII Invisibilia, GAMC Palazzo Forti, Verona 
2009
Urban Attitudes, Piazza Loreto, Milan ( curated by A. Trabucco)
2008
Framed, school gallery paris/ show off, Paris + Framed, VM21 roma/ fiera di Verona
2007
Parole in gioco, Museo della Città, Urbino ( curated by Maria Perosino e S.Barttezzaghi)
Videominuto, Centro per l'arte contemporanea Luigi Pecci, Prato ( curated by Andrea Mi)
Frames,rassegna internazionale di video art, New Focus Area, Mumbai ( curated by L.Canova)
Arcani Maggiori, Antonio Colombo Arte Contemporanea, Milan (curated by i M.Kaufmann)
On the edge of vision, Ministero dei Beni Culturali e del Ministero degli Esteri (curated by L.Canova)
Part I : Victoria Memorial Hall, Calcutta ( curated by R.Lochan)
Part II : National Gallery of Modern Art, New Dehli
Part III : National Gallery of Modern Art, Mumbai
2005
Acqua che scorre nel deserto: clima energia mondo vivente, Campobasso
La mossa delle idee, Sala Santa Rita, Comune di Roma, Roma(a cura F.Strigoli)
Masterpeace – Sotheby's Italia, Palazzo Broggi, Milan
Il corpo elettrico – Fuori Luogo X° edizione- , Palazzo di Ferrazzano, Campobasso
Il senso del male. Galleria delle arti contemporanee, Progetto Dirarte contemporanea, Chiostro di Sant'Agostino,Caserta (cureted by L. Canova)
Le immagini affamate. Donne e cibo nell'arte, dalla natura morta ai disordini alimentari, Museo di Aosta , Aosta (curated by M.Corgnati)
2004
Allarmi. Zona creativa temporaneamente valicabile. Caserma De Cristoforis, Como ( curated by A.Trabucco, I.Quarone, I.Zucca, N.Magione)
Il corpo solitario – maionese VII° edizione- En plein air artecontemporanea, Pinerolo/Turin (curated by G. Bonomi)
La mossa delle idee-videodays II,Comune di Firenze, Firenze (curated by F. Strigoli)
2003
Cittazioni – un caso di public art- Comune di Milano, Milano (curated by M. di Marzio)
Grinzane Cinema, Corti Letterari anteprima dello Europe Shorts Award 2004, Palazzo dei Congressi, Stresa (curated by V.Cerami ,S.Della Casa)
Psicofestival – la percezione di se-' galleria neon/ cinema Lumière, Comune di Bologna,Bologna
Storie di ordinario disagio, Museo civico d'arte, Riva del Garda (TN) (curated by A.Madesani)
Festival Intern. del Cinemadifrontiera, Cortile Arabo, Marzameni-Siracusa
bafilmfestival,videoart,Palazzo Bandera , Busto Arsizio (curated by Lizzati/Madesani)
RassegnaGTO CORTO ART", Teatro 20/ Cinecitta', Roma
2002
Le icone fluttuanti ,Fondazione QueriniStampalia,Venice (curated by A.Madesani)
Nuove Opere 34° festival del film corto, Teatro Roen, Bolzano
40°Panorama of indipendent film and videocreators, Tessalonica, Grecia
Cinemadifrontiera,Festival Internazionale del cinema di frontiera",Marzamemi Siracusa
Dagmar,film festival Dresden, Dresda, Germany
2000
L'occidente imperfetto, VIII Biennale Internazionale di Fotografia, Turin (curated by D. Curti e A.Madesani)
Some people who have written about her work:
Renata Azevedo, Bernice Steinbaun, Francesca Bonazzoli, Ilaria Bignotti, Maggie Cardelus, Alessandro Trabucco, Angela Madesani, Lorenzo Canova, Elena Del Drago, Giorgio Bonomi, Maria Perosino, Martina Corgnati, Alessandra Galletta, Massimo Kaufmann, Emanuela Mirabelli, Marina Mojana, Patrizia Nuzzo, Raffaella Oliva, Cristiana Perrella, Elisabetta Guida, Giovanna Giolla, Giulia Ceriani, Maria Anna Potocka, Ivan Quaroni, Chiara Rostoni, Enrico de Santis, Gabi Scardi, Antonio Somaini, Bartolomeo Pietromarchi, Valentina Bonomo, Paola Ugolini, Micol Veller, Giuseppe Vitiello, Silvio Wolf, Erika La Cava, Micaela Solbiati, Agnieszka Kilian.