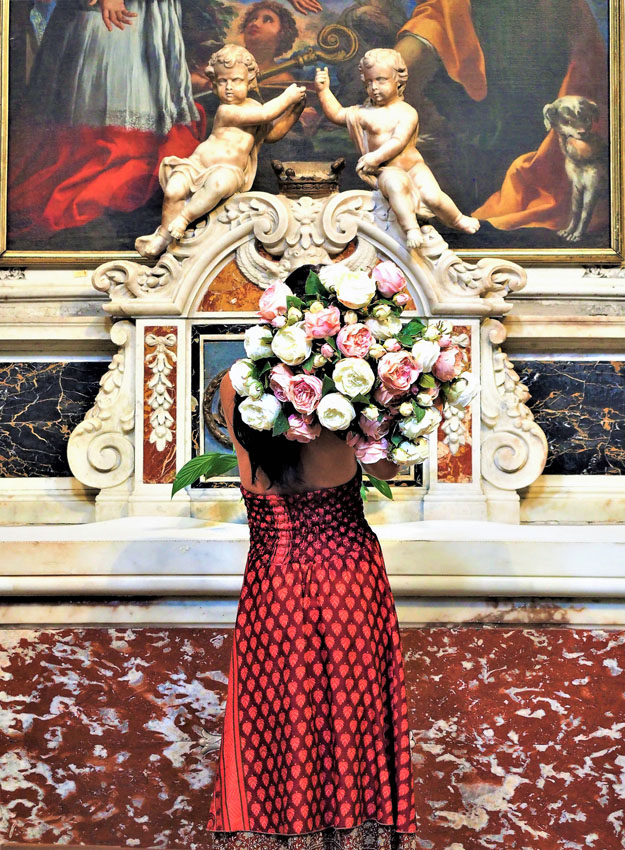 IAIA FILIBERTI
Italian and Milanese, the versatile artist Iaia Filiberti ranges between installations, illustration and video art in all of which her stylistic identity always rings true: refinement, elegance and an essentiality of representation, combined with a subtle vein of irony. Her vision of reality is always fiery; here she is exalting soon forgotten female figures in the star system (see, Framed 100 round trips to Hollywood, 2010) there she is illuminating the lives of dynamic, pioneering women whose revolution has yet to be completed (Nimby, 2016). From archive research to the creation of icons of the contemporary, Filiberti works focuses on diverse themes, reinterpreted with an intimate point of view that is never politically correct and is necessarily contrary to any cliché.
The work with which the artist's name is most readily associated is Pepita, a character conceived in 2001. Since then, numerous events have permitted Pepita to express herself in the world of art with that curious, fearless and sharp attitude of hers. The most recent is Pepita Reloaded (2017): the graphic, cartoon female Pepita, with her multi-faceted personality, is a particular admirer of Joan of Arc and the spirit of the ancient knights; in the face of a degraded and offended people, of corrupt and cruel enemies, rather than flee she reacts!
In 2017, Iaia Filiberti published with Mondadori Electa the book Seidimano, a volume bringing together 54 dual images from a deck of cars she invented and skilfully organized; it represents the transposition on paper of a multimedia work from 2016, a project inspired by the subtle dynamics of card games that become the game of life, on the cusp of fiction and reality. The project is composed of small b/w photos matched with phrases drawn from F. Dostoevskij's The Gambler, and audio and video installations – exhibited for the first time in the "domestic gallery" setting of her family home where the artist would play her father at burraco, a canasta-type game – and concentrates on Iaia's face, photographed by her husband Alberto Tedeschi, in a sophisticated and voyeuristic game that seduces the observer, just as gaming seduces the gambler and art seduces man.
Between art and life, the artist identifies with reality just as she detaches herself from it. The greatest embrace is the one that opens to the world, not the one that clutches to oneself.
Instagram:  @iaiafiliberti
Cappelline
The project Cappelline, which began in the spring of 2018 almost by chance, was born out of this dynamic of total art that characterises Filiberti's most mature works. Even though chance does not exist, or so the artist believes and I with her!
Iaia was in Verona with her husband and her children; along a street she saw a votive chapel with a statue of the Madonna and spontaneously dropped to her knees before it. It was an instinctive gesture that her husband captured in a photograph. The result was a fine image with the Virgin seen from the front and the artist from behind, in black and white. 
The private gesture of saying grace, kneeling before the Madonna – "the Mother of us all" specifies Iaia – became over time an artistic project in which grace is said out loud, committed and ever more amplified fashion. Iaia Filiberti, once again wearing her director's hat, as in Seidimano, traces a personal map of the Marian sites that have constellated and continue to mark the phases of her life, she visits them, kneels in front of the sacred image and prays.
Each site becomes an image, which Iaia transforms into a work of art.
This time, however, the artist's emphasis is not on her own face but rather the Virgin Mary and the filial relationship she has with her. This time the photos taken are in colour rather than black and white and what emerges is an original, fresh work in which the underlying intent – both vital and artistic – is that of sharing with others testament to a faith in our lord the Saviour.
Iaia Filiberti uses the instruments available to her: her body, her faith, her art and the camera's lens.
The work that is created is not so much a reportage featuring magnificent churches, of which Italy is awash, but little known chapels, votive aedicules and grottos, located in places bound up with the artist's existential geography: from the Madonnina of Levo, an obligatory stop on the walk she would take in the summer, in the company of her father and his hunting dogs, to the Madonna del Carmine in Milan where, in a snowstorm, her second son was baptised.
Sophisticated, vintage, barefoot or in heels – as she usually dresses – Iaia Filiberti kneels before the Madonna and pays elegant homage: "because this is what one does before the Mother of the Almighty"  she remarks.
This work is therefore an artistic project of great contemporaneity, between performance and photographic installation, but it is also an act of faith in Mary.
Marina Mojana